It's bigger and better
Presenting an industry-leading TruView with a 1.55'' touch screen that displays visuals in vivid colours, so you never take your eyes off what matters.
Wear your style
Mix and match to change your look. Made from skin-friendly silicone, the strap is as easy on the eye as it is comfortable.
Don a new look
Choose from the already-present watch faces or download a new face from the plethora of cloud-based options available.
Track your own Oxygen level.
Be aware of the changing levels of oxygen in your body and take steps to keep it balanced.
Take it easy.
Feeling stressed? Let the ColorFit Pro 3 take over. Measure your stress level and take some much-needed break time and practice mindful breathing techniques with guided breathing sessions.
Every beat matters.
Track every beat with the 24/7 heart rate monitor precisely. Get to know about your maximum and minimum heart rate and also get alerts when it exceeds the limit.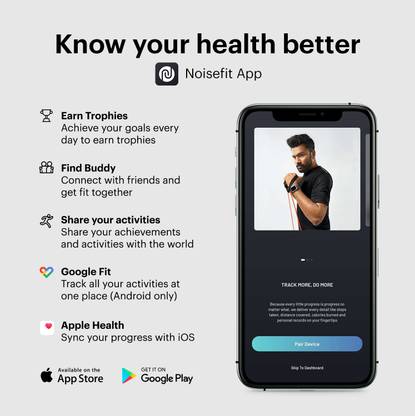 Get a goodnight's sleep
Synced with the NoiseFit app, Pro 3 watches you over while you sleep and provides an update on your sleep quality (deep & light sleep and REM) so you can review them.
Push yourself further
With auto sport recognition and the Smart Running Partner feature, ColorFit Pro 3 will ensure that your everymove is tracked and counted. So, you can surpass your goals.
Highlights about the product's
Truview tm display: the industry-leading truview tm display ensures that you get the bigger picture on the 1.55'' touchscreen HD display with 320×360 pixels.
Battery life: upto10-day battery life ( 4 days heavy usage and 10 days with normal usage ) ensures that there is nothing between you and your health
Noisefit app: know your health better with the dedicated noisefit app. analyse your health with detailed progress report. amp up your daily workout sessions with easy-to-follow workout videos and get better in achieving your health targets with activity challenges.
14 sports modes: the 14 sports modes ensure that you can play your game and keep track of it even better.
Waterproof design: with the 5atm waterproof design, get ready to just dive in.
Get this awesome smartwatch