Indians have never been into fitness as they are now – and the most common way to be fit and athletic is running. The first step towards this is choosing the best running shoes! Yes, the best running shoes because they play a significant role when it comes to running. It can be quite a tough task to pick up a perfect pair of running shoes for yourself. The market has millions of options and the men behind the sales counters seem so convincing.
Buying shoes is an investment. It is imperative that you take your time and decide the shoes that you want to buy. But how do you choose the best shoes? With online sales of shoes increasing like other products, it is possible that the looks that mesmerise you so much that you pay little attention to other details. But while selecting the shoes, you must also consider your running needs like how often you run, where you run, your price limit and so on. Shoes that you like could be expensive. Thus you can use offers and coupons to save and not compromise on its quality.
As soon as you start looking for shoes, you will see many options and you might like them all.
Here's the list of some of the best Running Shoes:
1. Skechers Men Go Run Strada Running Shoes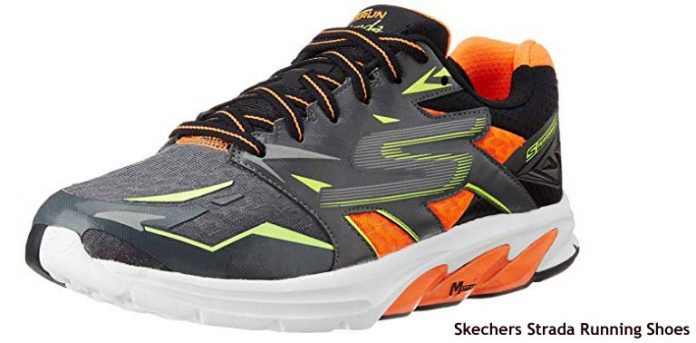 Comfortable, stable, and highly durable are some of the positive features of this shoe. If you are planning to run a marathon and are training at varying speeds daily, then Skechers black go run Strada running shoes are the perfect pick. Dubbed as one of the top running shoes in India, this one has some great reviews and ups the style quotient too. The pair is quite light, though the rubber sole is thick to enable proper shock absorption and keeps you on the ground. The style is excellent, the padded linings offer a great sense of comfort, and the material lets your feet breathe in fresh air.
These shoes boast of a shape-up technology, making you tone your calf muscles. It further helps in improving your posture, tighten the abdominal muscles, and encourages blood circulation. The more you run with these shoes, the more easily will you end up losing weight. They can be bought in-store as well as online. Skechers go run Strada running shoes have been rated quite high on many e-commerce websites too.
2. Puma Faas 500/ 900 Running Shoes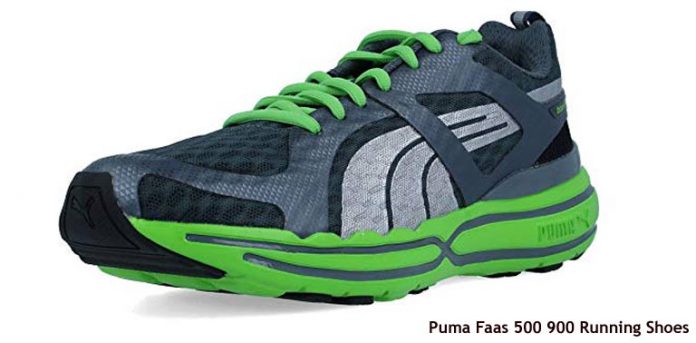 Talking about top running shoes for men in India and you cannot just ignore the sports brand Puma. Whether you opt for Faas 500 or a Faas 900 pair, you are on the right side of the bargain. Smartly designed with mesh on the upper part and a lining that is not leather, these come in brilliant colours like blue, black, and silver. Get the benefit of style and looks with the German brand Puma. The Puma running shoes also claim to provide you a smooth take-off and a secure fir for making your running experience a pleasant and rewarding.
Tough, durable, and excellent cushioning are some key attributes of the Puma Faas series. If you prefer trail running on hardened and rough terrains, then these should be on your buy list. The pairs are flexible and ease any discomfort that usually accompanies when running on rough terrains. These factors make Puma Faas 500/500TR and 900 one of the best sports running shoes for men.
3. Reebok ZQuick 2.0
Have you ever wanted to have the speed of car tyres? When then the Reebok ZQuick 2.0 running shoes for men are your pick. The sole of the shoe is inspired by car tyres and rightly so. The bottom does provide an excellent grip on the road, making it suitable for someone who likes to jog or run on high speeds in rough terrains. You may as well want to use them in your gym for strenuous cardio training since these will not make your trip.
Reebok ZQuick 2.0 is ideal for those who run on the country's rugged roads or highland terrains. They are lightweight and help to increase speed as you run. You can get them from Reebok Store or if you like to shop online, get them from Amazon.